Fenrir Combination
Stage 1
20 pieces of Splinter of Armor
20 pieces of Bless of Guardian
1 Jewel of Chaos

This combination will produce a Piece Horn (70% success rate)
Stage 2
5 Piece of Horn
10 pieces of Claw of Beast

1 Jewel of Chaos

This combination will produce a Broken of Horn (50% success rate)
Stage 3
1 Broken Horn

3 Jewels of Life

1 Jewel of Chaos

This combination will produce a Horn of Fenrir (30% success rate)

That's result Red Fenrir!
Repair and resurrection
- Horn of Fenrir can be repaired.
- Fenrir contains maximum durability and it will decrease when damaged.
- Repair can be done using Jewel of bless.
+ When repairing process fails Jewel of bless will disappear
- Attacking
- Plasma storm is an exclusive skill which can only be used when Fenrir is equipped. (Mana 50, AG 20)
- Plasma storm will not damage any other characters except the target during PvP.
- Can be used during Castle Siege but it can also damage the same team.
Upgrading the Horn
1 Horn of Fenrir

5 Jewels of Life

1 Jewel of Chaos

One or more Level 4 (minimum), Option 4 (minimum) Armor to Create Protection Fenrir
Blue Fenrir: Horn of Fenrir + Protection (absorb final damage)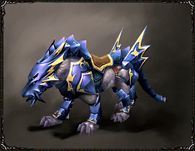 One or more Level 4 (minimum), Option 4 (minimum) Weapon to Create Destruction Fenrir
Black Fenrir: Horn of Fenrir + Destruction (increase final damage)